Beyond the researchers, technical staff and doctoral students of the laboratory, the artists interact with the Project-Lab on the Beaulieu campus, and with the University collections (zoology, scientific instruments, mineralogy, etc.) to take advantage of and promote the University heritage. This project, winner of the Rennes Métropole 2021 "Cross-Creativity" call for projects, however goes well beyond the university scope, in particular thanks to a partnership with the company InterDigital. The innovative light-field imaging technologies developed by this company will make it possible to offer an interactive experience of this hidden polarimetric reality, using three-dimensional image capture and rendering... The creation will also be based on a collaboration with the Marinarium of Concarneau (Museum of Natural History), and will finally include a musical dimension with the involvement of the musician/composer Thomas POLI, also from Rennes.
© Fred Murie 2020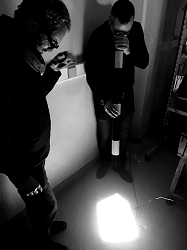 « - Wait, look, … This should makea spiral !...
- And what about the 3D printing… how do we proceed ? …
- For me, … I see an eye in relief… ! »
… unusual sentences heard in a scientific lab...
At the end of the residency, the various works produced, combining physical phenomena, sculpture, digital arts, 3D projection, etc. will be presented during a temporary exhibition planned in Rennes, during 2022 at the Champs Libres, which supports and co-produces this Art & Science project.
Synopsis du projet
The phenomenon of light polarization is omnipresent in our daily environment : in the blue of the sky, in the reflections on windows or water surfaces, in the wings of certain butterflies or birds. However, it remains perfectly invisible to humans, unlike some insects and several species of marine animals such as cuttlefish. If our eyes are able to apprehend the direction and the color of the light they receive, they remain indeed insensitive to the polarization of the light, which can be defined simply as the trajectory of the oscillating electromagnetic field which conveys light information. The innumerable image sensors that condition our modern daily life also remain blind to this physical phenomenon. Strangely enough, LCD (liquid crystal) display technology, which is used mainly in the countless screens around us, is based on this physical phenomenon.
In this project, entitled "The Extra-Ordinary Ray", light polarization is seen as revealing the porosity between two aspects of the contemporary world : that of physical space, called "real", in which our bodies - and all living things - evolve ; and that of the imaginary space, called "virtual", in which our minds move.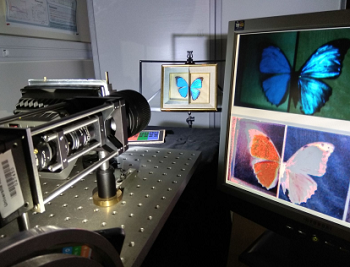 © Institut Foton/Univ Rennes 1/CNRS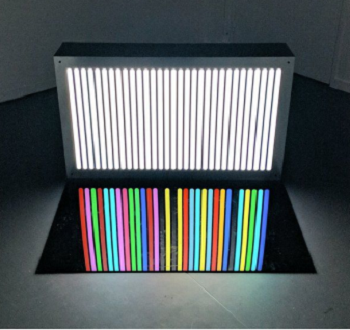 Spectre © Flavien Théry
Partenaires du projet
Flavien THÉRY & Fred MURIE (Spéculaire), Université de Rennes 1 (Institut Foton / Service Culturel), InterDigital, Museum d'Histoire Naturelle (Marinarium de Concarneau), Thomas POLI, Les Champs Libres, Rennes Métropole, Les Ateliers du Vent
This project is the winner of the Rennes Métropole 2021 "Cross-Creativity" call for projects.
Voir en ligne :